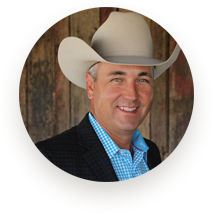 Ponder, TX
Jason Trosper's roots go deep in the heart of Texas, coming from four generations of farming and ranching in the panhandle. Jason moved to the north Texas area in 1994 to pursue a career in marketing for U.S. Smokeless Tobacco Co. Through hard work and dedication Jason worked his way up to the company's Marketing Promotions Supervisor. After an amazing 18 year career with UST, Jason decided to pursue a career in real estate specializing in Farm and Ranch, and Commercial Real Estate.
Jason thrives on hard work, dedication, and a willing heart to serve. These values stem from being raised in the western world. Jason, his wife Melinda and their two daughters, Jada and Tana, live outside of Denton near the town of Ponder.
In addition to real estate Jason is the founder of Cowboy Militia, an apparel company that markets to the western world and the Texas music scene. Outside of work Jason is a member of the United States Team Roping Championships and Cross Timbers Church. In his free time Jason enjoys team roping, hunting, and hauling his daughters to youth rodeos and barrel races.

Have a question? Contact Jason Today.

Listen to what others have to say about Jason
"We were new to the buying and selling aspect of being a homeowner and not really sure if it was the right time for us to move. Not only did Ranchman Properties walk us through the process, they sold our home in under two weeks, and found us exactly what we were looking for. Ranchman Properties is passionate about real estate. They are honest, hard working, knowledgeable, kind, and goes above and beyond to make things happen."
— Todd & Traci, Denton,TX