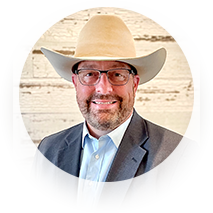 Brian Dunks
Houston, TX
As a native Texan, Brian understands the lure of this great state and wants to help others live out their dream of owning land. Brian holds degrees from Baylor University and Southwestern Baptist Theological Seminary.
Brian brings over 22 years of pastoral ministry experience to the Ranchman team. He has served in every size church and setting in mostly rural Texas. Most recently he served as Pastor of Columbus Avenue Baptist Church in Waco, Texas. Under his leadership, guiding spiritual formation and organizational development, each of the five churches he served experienced growth and vitality.
Brian has also worked in the for-profit world and has proven himself as a catalyst in business development and sales management. Following Columbus, Brian worked at Mid-States Services as Director of Sales demonstrating a positive record of increased sales and expansion across a 22-state area. Brian has also co-owned his own promotional company and worked in the Nashville real estate market.
Brian's unique combination of experience and ability give him the right perspective to help people discover their real estate dreams and turn them into reality.
Brian and his wife Jennifer live in the Tomball area of greater Houston. They are empty nesters and have five grown children spread out across the United States. Together they enjoy hiking, travel, adventure, good food, movies, and spending time with friends and family.

Have a question? Contact Brian Today.

Listen to what others have to say about Brian
"We were new to the buying and selling aspect of being a homeowner and not really sure if it was the right time for us to move. Not only did Ranchman Properties walk us through the process, they sold our home in under two weeks, and found us exactly what we were looking for. Ranchman Properties is passionate about real estate. They are honest, hard working, knowledgeable, kind, and goes above and beyond to make things happen."
— Todd & Traci, Denton,TX