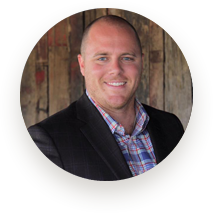 Ben Clark
Aubrey, TX
Ben is a Native Texan and has called Denton County home for over 25 years. After graduating from Denton High School in 2005, Ben attended Baylor University where he walked on the football team and earned a four year degree in Education. In 2011 Ben obtained his real estate license and hasn't looked back. Growing up in the woods hunting and exploring nature has given Ben a natural fit for selling recreational properties and understanding what it takes to create the ideal hunting ranch. "I've always had a passion for the outdoors, so what's better than helping others with the same passion buy their own piece of Texas to live their dreams!"
Outside of work Ben is a Chairman at the North Texas State Fair and Rodeo, Co-Founder of 100 Men of Denton, and is a member of the 2015 class of Leadership Denton.
Ben and his wife Natalie have three young kids and reside on their small farm in Aubrey, TX. In his free time he loves to be outdoors hunting or on the lake surfing with his wife and kids!

Have a question? Contact Ben Today.

Listen to what others have to say about Ben
"We were new to the buying and selling aspect of being a homeowner and not really sure if it was the right time for us to move. Not only did Ranchman Properties walk us through the process, they sold our home in under two weeks, and found us exactly what we were looking for. Ranchman Properties is passionate about real estate. They are honest, hard working, knowledgeable, kind, and goes above and beyond to make things happen."
— Todd & Traci, Denton,TX