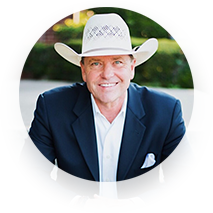 Barry Stephenson
Flower Mound, TX
Barry Stephenson was raised on the Persimmon Creek Ranch, a working cattle operation on the Canadian River just east of Canadian, in the Texas Panhandle. He developed a love for hunting, fishing, rodeo and all things cowboy at a very early age. His weekends and summers were spent in a pasture learning the importance of doing the right thing and treating people the right way.
After attending Texas Tech University, Barry built a successful career in sales and business development with over $100 Million in sales, multiple awards and Chairman's Club Trips at companies like AT&T, KPMG and PricewaterhouseCoopers. The combination of Barry's ranch roots and corporate success allow him to relate and effectively communicate with everyone from the gruffest rancher to the slickest city businessman.
Barry and his wife Paige, who has her own very successful career in medical sales, live in Flower Mound. They have two beautiful daughters – Rylie, who attends Belmont University in Nashville, TN, and Hadley, who attends Liberty Christian School in Argyle, TX.
In addition to his real estate business, Barry is also an owner of City Wide of DFW. City Wide manages building maintenance services for commercial properties all over the Metroplex. Barry and his family are members of The Village Church in Flower Mound, where he leads the 10th grade boys in high school bible study. Barry is passionate about his family, music and the outdoors.

Have a question? Contact Barry Today.