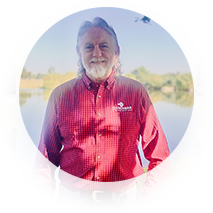 Jonathan Ford
Denton, TX
Born and raised deep in the heart of Texas, Jonathan has a real heart for land and land-owners. A "city boy" turned country, Jonathan became a Future Farmer of America his freshman year at Moody High in '72 (still have the navy blue, corduroy jacket in the attic). One pig & one steer later, the country began to sink in.
With a Bachelor of Science and an MBA from Baylor University, and a Master of Healthcare Administration from Thomas Aquinas Institute of Theology, he enjoyed a long career in healthcare administration including marketing, public relations, volunteer services, and mission integration. His work to align the mission, vision, and values of the healthcare industry still today impacts the lives of hospital associates from those who cook meals and clean rooms . . .to physicians, nurses and community leaders who globally support faith-based healthcare.
Jonathan became licensed as a Texas Realtor in 2019; and, joined the Ranchman Properties Team in 2021. He is poised to exceed your expectations for listing, buying, and selling farm & ranch properties across the Texas.
Jonathan and his wife, Deborah, live in Gatesville, Texas, where they raised three G'ville Hornets—Mary Alice, Class of 2010; Grace, Class of 2010; and, Christian, Class of 2012. Two grandsons help round out our Hornet Tribe—Kaser, Class of '31; and, Brack, Class of '34!
Jonathan is active in his community as a member of the Gatesville Chamber of Commerce; the proud Dr. Pepper Press Box Sponsor for all of Gatesville Hornet Football games; sponsor for the GISD Hornet Volleyball Camp; and Strikers Baseball League.
You can trust Jonathan and the Ranchman Properties Team with your vision and dreams for generations to come.

Have a question? Contact Jonathan Today.

170 Post Oak Road Coryell TX Coryell Valley Mills Texas hunting landranches

1199000

170 post oak road

100

Acres: 100 +/-

County: Coryell

City/State: Valley Mills, TX

1633482062

1633015792

0

Status:

New Listing

huntingland ranches

$1,199,000

Hog Creek runs right through the Crosby Ranch, which is home to hundreds of native pecan trees, deer, dove, quail, Native Indian sites, rugged terrain, plus ample acreage for...