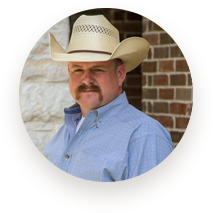 Colby Grady
Kaufman, TX
Colby Grady is no stranger to the farm and ranch industry. Since he was 15, he has been farming land in and around Scurry, Tx. At the age of 18, Colby joined the Kaufman County Sheriff's Department and served as a public servant for 15 years. During that time he also owned and operated a custom hay business in Combine, Tx.
In 2017 Colby decided to take his knowledge of the farm and ranch industry and pursue a career in real estate. "I have always had a passion for real estate and an opportunity came about and I didn't want to pass it up!".
Outside of selling real estate, you will find Colby and his wife Kelly hauling their two beautiful girls, Terryn and Carly, to barrel races all across Texas. He has his family also attend Kaufman County Cowboy Church.

Have a question? Contact Colby Today.

Listen to what others have to say about Colby
"We were new to the buying and selling aspect of being a homeowner and not really sure if it was the right time for us to move. Not only did Ranchman Properties walk us through the process, they sold our home in under two weeks, and found us exactly what we were looking for. Ranchman Properties is passionate about real estate. They are honest, hard working, knowledgeable, kind, and goes above and beyond to make things happen."
— Todd & Traci, Denton,TX