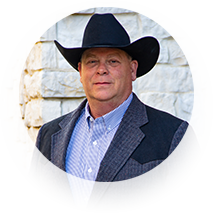 Anthony Even
Mountain Springs, TX
Anthony Even is originally from southern Colorado but made the move to Texas in 2000 after starting a career in the Oil and Gas industry. For the next 20 years, Anthony traveled throughout Texas, Louisiana and Oklahoma selling products and even starting his own company, Circle A Oil County Tubulars LLC, selling casing and tubing. Traveling across these states allowed him to see the vast number of farm and ranches giving him a love for the land. This led to Anthony getting his real estate license so he could help others fulfill their dreams of owning a farm or ranch.
When Anthony isn't listing or showing property, he enjoys running his small heard of Black Angus cow calf pairs in Valley View, Texas. "It has been my passion to raise Black Angus while practicing stewardship of the land and natural resources."
Anthony and his wife Patty Jo have 3 kids that are grown and have started their professional lives. He also enjoys taking time to travel back to Colorado to visit family and friends, going on hunting trips, and spending time with his wife on their ranch.

Have a question? Contact Anthony Today.